Scrap Processing: Making Metal Recycling More Efficient And Profitable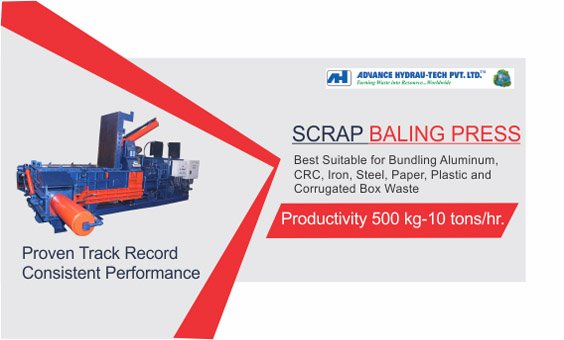 The steps involved in managing and transporting scrap efficiently before actual melting are referred to as Scrap processing. At Advance Hydrau-tech, we have termed scrap processing as Cold Refining.
Thus, Cold Refining means making the scrap purer and more dense using cold processes, i.e., processes that do not involve any heat or fire. Any method of scrap processing will involve mainly 3 steps namely Sorting, Cleaning and Densification which are the major components of any refining process.
1. Sorting: involves segregating different varieties of scrap
2. Then comes Cleaning, which means removing the unwanted or foreign material. For example, removing the rust and dust thereby increasing the purity of the material
3. Finally Densification which means to increase the density of material that will finally go for melting
Following these three steps of Cold Refining will always be less expensive and less capital intensive as compared to doing only hot refining or melting which is being followed in general. Hence, Scrap processing is important because processed scrap can help increase the revenues –
for processor in terms of achieving more weight, lesser storage area, benefits of sorting different types of scrap material, ease of transportation and hence lesser cost and many more.
And, for the end user i.e. the melting units, by way of better yields because of cleaner material, and more production because of less charging and melting time due to denser material. Therefore, scrap processing holds a very important place in the entire scrap based industry.
Therefore, all scrap processing machines should focus on the 3 steps of Cold Refining and can be achieved by one of the following 4 processes – Baling, Shearing, Shredding, and Briquetting.
Baling means compacting large volume of scrap into denser form in the form of bales which becomes easy to handle, store and transport. Hydraulic Baling Press is the machine do the job of baling.
Shearing machines are used to shear or cut metal scrap which is large or bulky in size. Shearing is required to make the scrap ready for directly feeding the furnaces or to remove any unwanted fittings or other parts from the crap metal not accepted by the shredder. Hydraulic shearing or Alligator shear is used for scrap shearing purposes .
Shredding means tearing and fragmenting huge volume of scrap into smaller portions of higher density by means of a hammering action. This in turn makes the scrap metal free from rust, dust & colour contents. Metal Shredder is used to shred scrap material.
Briquetting is used for scrap metal which is in the form of small chips or turnings. A briquetting machine extracts extra fluid from the scrap and converts them into briquettes which can be then easily transported and fed in the melting unit.
Thus processed and clean scrap achieved by one of the above processes also increases the scrap value, also known as Salvage value.