Advance Hydrau-Tech – The Leader In Scrap Processing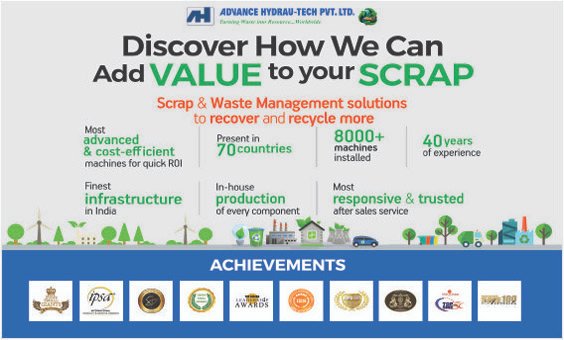 Advance Hydrau-Tech has been the standout leader since the last 35+ years when it comes to the manufacturing and export of scrap processing machines. The company was established in the early 80's and since then, through sheer hard work and perseverance, they have been able to provide quality service in terms of scrap processing machines. The company is a part of the Subha Group Company which has its own trademark of supreme quality.
Advance Hydrau-Tech is associated as a distinguished member of MRAI and an IEC certified company, thus providing all the evidences that it has been able to feature in the best aspects that a company can be a part of. For the past 40 Years the company is manufacturing export quality Scrap Balers, briquette machines, shearing machines, hydraulic nibblers, metal shredders and waste machines.
What has made the company to be a leader?
The company has always believed in providing the best possible service. Thus, they do not compromise with quality with repeated quality checks done by professional service technicians of major educational levels.
The products are known for their durability and it has also proved to be working fine in most extreme conditions. The products are associated with great build and quality, able to serve with total effect that is effectively up to the mark. The company has continued manufacturing some high quality bailing equipment's for domestic as well as for International market.
At present, Advance Hydrau-Tech has successfully served more than 7000+ customers with their specific requirements and also has done the same within the Industry standard guidelines.
Advance Hydrau tech Pvt Ltd. provides a sustainable and environmentally friendly service to a diverse and established base of clients who have been found to barely show signs of dissatisfaction after a deal. They invest in the most advanced plant and equipment. This enables them to process scrap more effectively and produce the highest quality end products. Furthermore, this technology and expertise enabled us to operate at maximum efficiency and minimize emissions.
Having stretched its arms across every state of India, the company is a driving force at the moment in terms of scrap manufacture and export.
A variety of services with a wide range of products have made the company look more diversified with dignity being added via the addition of the best ranked awards year after year.