Free Eye Check Up Camp Conducted For The Advance Hydrau Tech Team On 23rd 25th March 2015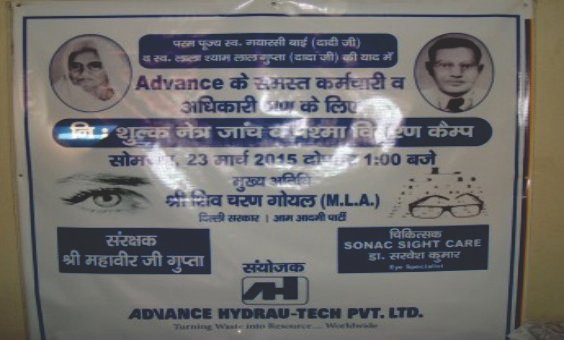 The employees of Advance Hydrau-Tech Pvt Ltd, Delhi, received free eye check up on 23rd – 25h March, 2015. The camp was organized in the fond memory of Late Smt. Gyarsi Bai and Late Shri Lala Shyam Lal Gupta, grandparents of Mr. Sudhir Gupta, Director of Advance Hydrau-Tech. The first day was completed with a total of 70 eye checkups and 140 eye checkups were done in the next two days. A total of 133 spectacles were distributed free of cost to the employees. A routine check up for diabetes and blood pressure was also done.
The camp took place under the able guidance of Shri Mahavir Gupta who well coordinated the working of the camp for 2 days. The success of the eye check up camp can be attributed to the able team of doctors lead by Dr. Sarvesh Kumar of the Sonac Sight care. The team of doctors also explained some precautionary measures that should be followed inside the factory premise.
Advance Hydrau-Tech has always kept its employees at the forefront and worked for their betterment in all spheres of life. They organize many such reconstruction activities throughout the year. The employees enjoy lunch parties on Diwali, Holi, New Year, etc. The senior team members have promised to organize many such camps and activities which engages the entire group and provides additional facilities to employees and their families.
Mr. Sudhir Gupta, Director, strongly believes in giving back to the society and doing his bit for the betterment of others. And for an organization, it starts from its employees. The company strives to give an open and comfortable environment which encourages employees to become personally engaged and have a say in how the corporate social responsibility program operates. The employees have also responded to these plans and activities with enthusiasm and shown their interest in making a difference at work. The company plans to follow a strong and well planned CSR program in the coming years.